FOR INFORMATION ON THE MONTHLY MEMBERS DINNER
CONTACT EDWARD BEVILACQUA OR CALL 760-547-4547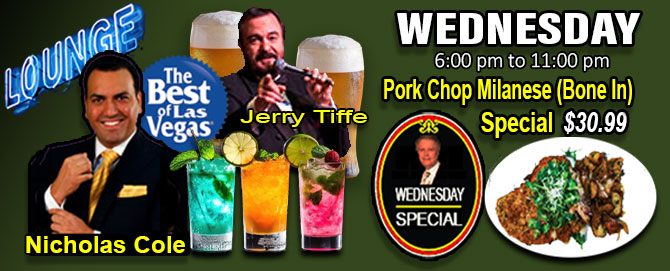 KEEP YOUR EVENING SAFE....

LET JOHNNY GET YOU THERE AND BACK SAFELY!!!!
Inquire about Italian American Club's luxury transportation (coach limo bus) service, offered for large groups, and assures safety and timely arrival for your guests. Reservations are strongly suggested by calling us at
702-457-3866.



THROWBACK 1st THURSDAYS

THE SWANKY SUPPER CLUB SOIREE!

with Jeanne Brei $10.00

Doors open at 5 pm for (optional) dinner - let Ben know you're here to see the Speakeasy Swingers (if it's not too busy, you might be able to dine in the ballroom for the full Swanky Supper Club Soiree experience!). Be sure and call for dinner reservations if you'd like to eat at (702) 457-3866. $10 cover includes three raffle tickets (drawing at 9).



CHADWICK Johnson.... "Addicted To Love"
Featuring his new band the "LV Retro Vibes"
Back By Popular Demand Friday, February 12, 2016 @ 8pm
Tickets: G/A $20 (only)

For Tickets Call 702-457-3866 or Book Online
Pick Up Your Tickets At Italian American Club


For Dinner Reservations Call: 702-457-3866



Come celebrate the release of Ryan Baker's new album "Timeless Again", a collection of jazz standards with original arrangements by the gifted Joe Lano. Ryan will be performing selections from the album live, with the complete six-piece band from the recordings, directed by Mr. Lano on guitar, and featuring some of the most talented musicians in Las Vegas, or anywhere for that matter.

Copies of the album can be purchased for $10. Complimentary appetizers will be available as well.
For Tickets Call 702-457-3866 or Book Online
Pick Up Your Tickets At Italian American Club


For Dinner Reservations Call: 702-457-3866


Frank LaSpina - "The Sisterhood of Song"

Sunday, February 21, 2016 at 4pm Tickets $20.00

Performance Benefiting Musical Arts Scholarship Program


SINGIN' & SWINGIN'

"Love Being Here With You"

Elisa Fiorillo

The Bruce Harper Big Band

Sunday, February 28, 2016 at 8pm

Tickets $25.00
For Tickets Call 702-457-3866 or Book Online
Pick Up Your Tickets At Italian American Club


For Dinner Reservations Call: 702-457-3866


BIVI Sicilian Vodka'

SHARE AN OLIVE WITH CHAZZ...

and listen to Chazz speak about his incredible career while enjoying BIVI Sicilian Vodka

Wednesday, March 9 @ 7pm Starts @ 8pm

Tickets $50.00

Proceeds will benefit the IAC Scholarship Fund
For Tickets Call 702-457-3866 or Book Online
Pick Up Your Tickets At Italian American Club


For Dinner Reservations Call: 702-457-3866

Frank LaSpina - "The Al Jolson Story"

Sunday, March 13, 2016 at 4pm Tickets $20.00

Performance Benefiting Musical Arts Scholarship Program
For Tickets Call 702-457-3866 or Book Online
Pick Up Your Tickets At Italian American Club


For Dinner Reservations Call: 702-457-3866


Jimmy Hopper- "Songs in the key of love!"

As Ron Taft of Ron Taft productions/Los Angeles summed it up,

"Jimmy Hopper…The most amazing voice you'll ever love!"

Wednesday, March 16 @ 8:00pm Tickets $32.00

For Tickets Call 702-457-3866 or Book Online
Pick Up Your Tickets At Italian American Club


For Dinner Reservations Call: 702-457-3866

The Last of the RomanticS

LAST OF THE ROMANTICS

THE POWER OF LOVE

THE ENGELBERT, TOM JONES SONGBOOK

SONGS FROM NEIL DIAMOND TO BON JOVI

with The Mariano Longo Orchestra

Sat., March 26th @ 8:00pm

Tickets $25.00
For Tickets Call 702-457-3866 or Book Online
Pick Up Your Tickets At Italian American Club


For Dinner Reservations Call: 702-457-3866

Country Goes Italian

Las Vegas Own Country Western Tribute Artists

Sandy Anderson (Dolly),

Corrie Sachs (Reba)

Roy Hammock (Willie)

Johnny Potash (Charlie Daniels)

Featuring The Country Superstar Band along with special guest Kylee Braden.

Wednesday April 13 @ 8:00pm

General Admission $25.00 VIP $35.00
For Tickets Call 702-457-3866 or Book Online
Pick Up Your Tickets At Italian American Club


For Dinner Reservations Call: 702-457-3866

Back To The Top


Click On Dates For More Information
Lounge Show Times 7:00 to 11:00pm
(We reserve the right to make changes in our performers)

CLICK FOR UPCOMING LOUNGE SHOWS

7

8

9

10

11

12

13

THE BIG GAME

Renee Hale

Mark Giovi

Ned Mills

CHADWICK Johnson

"Addicted To Love"

Tickets: Ringside Tickets G/A $20

Steve Judkins

Carmine Mandia
& Friends

Craig
Canter

Genevieve

Mark Giovi

Steve Judkins

Ryan Baker's

Celebrate the release of Ryan Baker's new album "Timeless Again",

2PM,
doors at 1PM. Admission is $15

Frank LaSpina

"The Sisterhood of Song"

4pm Tickets $20.00

Elisa Fiorillo

RITA LIM

Genevieve

Mark Giovi

Carmine Mandia
& Friends

SINGIN' & SWINGIN'

"Love Being Here With You"

Elisa Fiorillo

The Bruce Harper Big Band

8pm Tickets $25.00

Kent Foote & The Fabulous Vegas Good Fella's!

MARCH

Chazz Palminteri

BIVI Sicilian Vodka
SHARE AN OLIVE WITH CHAZZ..

$50.00
@ 7PM

AL JOLSON STORY

Produced By Frank LaSpina.

$20.00
@ 4PM

Jimmy Hopper

"Songs in the key of love!"

$32.00
@ 8PM

Gene Ferrari

The Last of the RomanticS

with The Mariano Longo Orchestra

8:00pm
Tickets
$25.00

Jerry Tiffe

APRIL

THROWBACK THURSDAYS
CALL
702-457-3866

Genevieve

Mark Giovi

Country Goes Italian

8:00pm

General Admission $25.00 VIP $35.00

Featuring The Country Superstar Band along with special guest Kylee Braden

MAY